Immortal Data offers an affordable, patented solution to the data collection and recovery demands of the burgeoning and budget-minded aerospace industry. We provide needed infrastructure to the ever expanding space industry.
Our intent is to provide space-faring platforms with affordable, light weight, compact, modular hardware/software systems to gather and share sensor data. Configured as a system of systems, our products protect data in the event of failure so it can be recovered for root cause analysis. Immortal Data presents our patented Distributed Black Box™ technology which collects, stores and safeguards data - even up to the last seconds of a catastrophic event.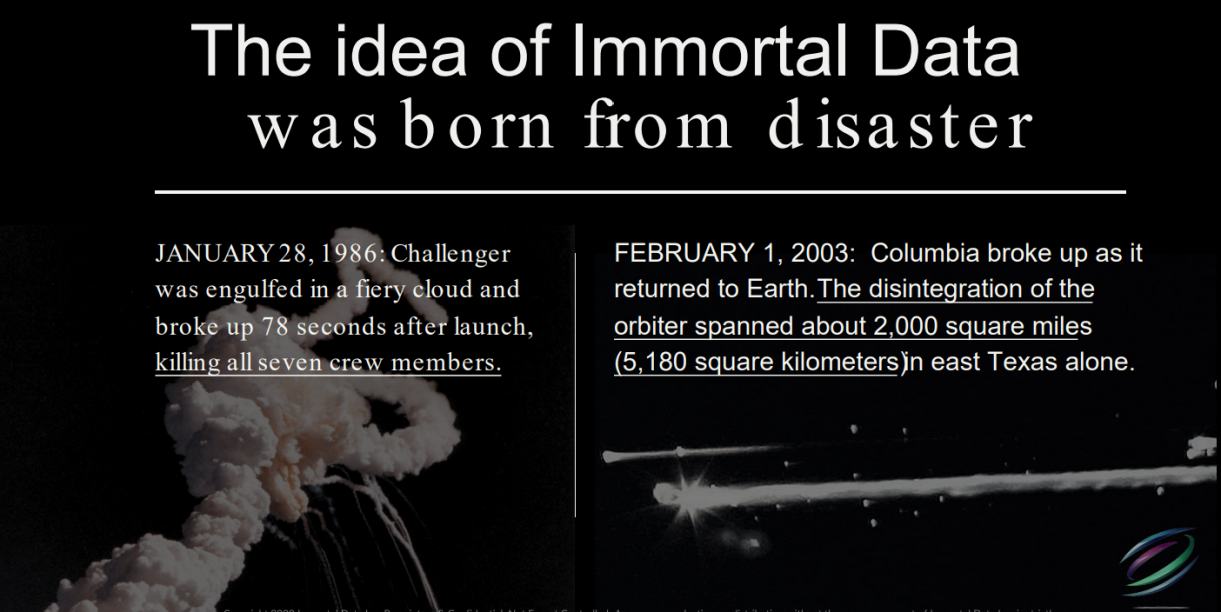 Our Story

Current black box technology made for aircraft is not going to work in the new space industry. Flight recorders (AKA Black Boxes) on aircraft are heavy and often untraceable in hostile environments. Practices to determine the cause of disasters currently rely on telemetry, debris mapping, and backward simulation to reconstruct the event and determine the cause and responsibility. There was no telemetry at the time of the space shuttle Columbia disaster, answers were tough to find, came late and at a high cost. Data transmissions from a space vehicle to the ground during the last few seconds are either unclear or insufficient. Orbital assets damaged or destroyed by debris have no records of the event, so neither cause nor liability can be ascertained.
Our Ambition

Our solution to existing problems of legacy black-box technology features three major innovations: