Smart Data enables everyone to control the uses of their data after it's been shared, by binding and enforcing digital contracts to data as it moves.
Most people believe we cannot control our data after it's been shared - that's no longer true. Accesr's patented Smart Data Protocol (#10,600,085) enables data owners to control the uses of their data by binding digital contracts like regulations, licenses, policies, and user preferences to data as it moves. To accomplish this, we've created the Smart Data standard and platform as a service (PaaS) for binding and enforcing digital agreements to our increasingly mobile data.
Our Story
The documentaries CodedBias and The Social Dilemma highlighted several severe problems with our data landscape:Lack of trust, transparency, and accountability of data flows and usesLack of security after data is shared or transferred to other partiesLack of trust in cross-border data regulatory complianceLack of reliable enforcement of data contracts and policies between people, organizations and governmentsAnticipating these problems, Internet standards bodies like the W3C and the IETF worked to bind contracts to data to create effective control architectures but Big-Tech blocked funding for this research a decade ago.The Edge Compute & Metaverse Data Problem: No Standards-Based Solutions for Edge Data Security & Multi-Party Data Lifecycle Orchestration Edge Computing: Places data and processing closer to the things and users interacting with each other that create and consume data. Edge Computing is the foundational infrastructure technology required to create responsive and immersive Metaverse digital experiences.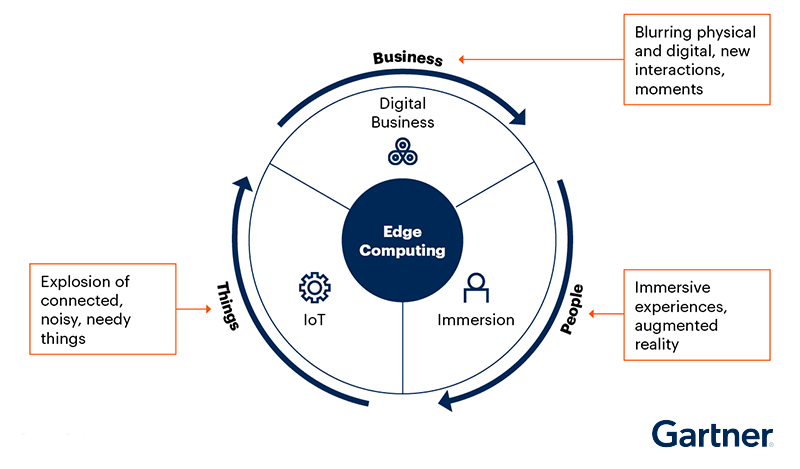 Gartner 2021 Strategic Roadmap for Edge ComputingWhile Cloud Computing operates on "Big Data", Edge Computing operates on "Instant Data" generated by sensors and users in real-time to create immediate and personalized Metaverse experiences merging the physical and digital. This requires workload placement that optimizes responsiveness, autonomy, and security from cloud data centers to smart home devices, to smart factories, smart retail, smart supply chains, to smart vehicles and wearables in motion.In advance of broad consumer awareness and demand, we're initially focusing on emergent and rapidly growing B2B use cases that involve many parties sharing the same data security and control standard. Edge Computing and Metaverse Applications require data security and orchestration based on global standards. The Data Security Problem: No Trust Edge devices exist outside traditional IT boundaries without physical protection and workload integrity. No standards exist for data protection, detection, and remediation across potentially compromised networks and platforms.The Data Lifecycle Orchestration Problem: No StandardEdge devices and data must interoperate across a growing number of organizations. The Internet of Things (IoT) includes a bewildering array of edge devices and use cases. This growing complexity amplifies security and trust problems.ITSE Technical Report: IoT Standards Landscape details 80 standards bodies working across smart cities, living, farming, wearables, mobility, environment, and manufacturing concluding:"What is missing is the choice across verticals for one solution that allows for interoperability. The recommendation is to, as much as possible, adopt interoperable solutions across all verticals" ETSI
Our Ambition

Accesr has a patented solution to address these problems. We've deliberately paired with the non-profit, Data Freedom Foundation, for frictionless global standards adoption.